May 9, 2015
Best in Client Satisfaction Five Star Award Winner, 8 Year Winner!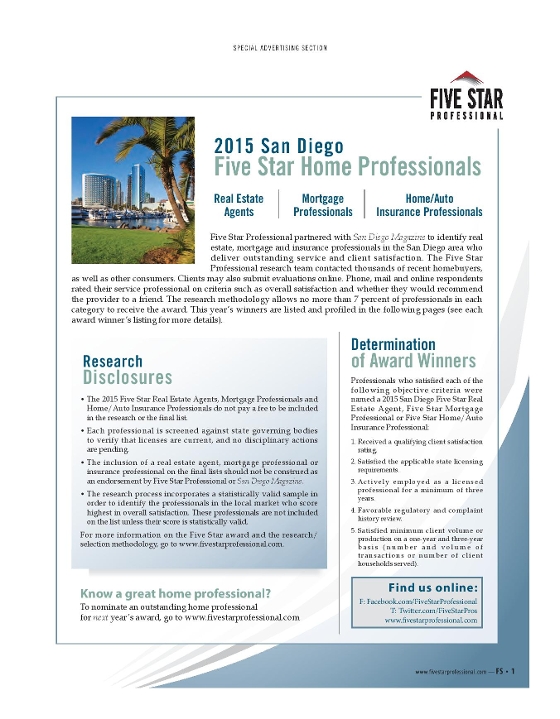 May 23, 2011
Jenny is your San Diego 2011 FIVE STAR Real Estate Agent, 4 Year Winner!
San Diego 2011 FIVE STAR Real Estate Agents
Jenny Schlick is a 4 year winner, 2008, 2009, 2010, 2011.
Experts say that at least 90 percent of homebuyers rely on real estate agents for advice and guidance. But with more than 15,200 San Diego area residents holding real estate licenses, how do you find someone who knows the market, represents your interests and operates with an emphasis on integrity and service?
San Diego Magazine can help. The magazine formed a partnership with Crescendo Business Services to find out which real estate agents have most consistently wowed their clients.
The Selection Process
Crescendo surveyed, by mail and phone, all San Diego area residents who purchased a home over $250,000 within a 12-month period (July 2009 to July 2010) and 7,000 subscribers of San Diego Magazine. An additional 250 surveys were sent to mortgage and title companies, which are often best able to judge a real estate agent's technical skills and knowledge.
Recipients were asked to evaluate only real estate agents whom they know through personal experience. They were asked to evaluate them based upon nine criteria: customer service, communication, finding the right home, integrity, negotiation, marketing the home, market knowledge, closing preparation and overall satisfaction.
Only original surveys — no copies — returned in their specially designed envelopes were accepted as valid. Crescendo scored and screened each qualified agent with the California State Real Estate Commission's database to verify that licenses were current and that no disciplinary actions were pending.
Finally, the qualifying real estate agents were reviewed by a panel of industry experts comprising realty company executives, professional and trade association officers, and others directly involved in housing-related businesses.
Although panelists' comments were incorporated into the final score, safeguards were built into the review process to reduce the ability of panel members to influence the composition of the final list on the basis of company affiliation.
A Select Award
The resulting list of FIVE STAR Real Estate Agents is a select group, representing less than 6 percent of licensed agents in the San Diego area. For a more user-friendly listing, agents have been grouped based on their city of focus.
Throughout the evaluation process, respondents told stories of lasting friendships that have emerged from what is most often a stressful business transaction. Several even wrote essays on why their particular agent excelled.
Although this list will certainly be a useful tool for anyone buying or selling a home, it should not be considered exhaustive. Undoubtedly, there are many other excellent real estate agents who, for one reason or another, are not on this year's list.
Research Declarations:
As with any research or recognition program, it is important that we provide you the following declarations:
The 2011 FIVE STAR Real Estate Agents do not pay a fee to be included in the research or the final list of FIVE STAR Real Estate Agents.
The overall evaluation score of a real estate agent reflects an average of all respondents and may not be representative of any one client's experience.
The FIVE STAR Award is not indicative of the real estate agent's future performance.
The inclusion of a real estate agent on the FIVE STAR Real Estate Agent list should not be construed as an endorsement of the real estate agent by Crescendo Business Services or San Diego Magazine.
The research process for the FIVE STAR Real Estate Agent Program, managed by QMI Research, incorporates a statistically valid sample in order to identify the real estate agents in the local market who score highest in overall satisfaction. QMI Research does not include real estate agents on the list unless their score is statistically valid.
For more information on the FIVE STAR Award and the research/selection methodology, go to:fivestarprofessional.com/research.
May 9, 2011
Jenny Schlick is now CDPE Certified!
Jenny is now a CDPE Agent.
As a Certified Distressed Property Expert Jenny is trained to handle distressed sales. If you or anyone you know is a homeowner facing a market hardsip and lookiing for a solution, call Jenny today.
Need to ease the pain of an unstable and confusing real estate market?
A Certified Distressed Property Expert® (CDPE) has a thorough understanding of complex issues in today's turbulent real estate industry and knowledge of foreclosure avoidance options available to homeowners. CDPEs can provide solutions, specifically short sales, for homeowners facing market hardships.
Homeowners regularly proceed without guidance of any kind through the often financially and emotionally devastating prospect of foreclosure. Speaking with a well-informed, licensed real estate professional is the best course of action for a homeowner in distress. Through comprehensive training and experience, CDPEs have the tools to help homeowners find the best solutions for their unique situations and to avoid foreclosure through the efficient execution of a short sale.
Living through financial difficulties poses a challenge for any family, so why make the process of finding a qualified real estate professional difficult too? Select an agent with the CDPE Designation to ensure you have a trained professional to address your specific needs. For more information, contact a CDPE in your area.
CDPEs don't merely assist in selling properties, they serve and help save their clients in need.